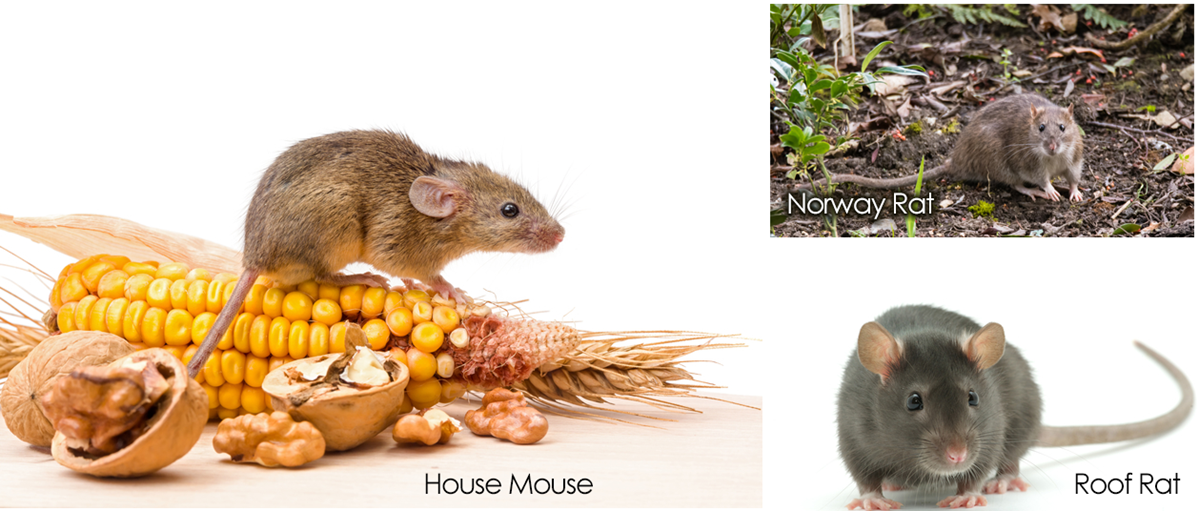 Norway rat~
Also Known as Wharf, Sewer, brown, common)
TAIL~ Shorter than head & body
BODY~ Heavy & Thick
EARS~ Small
EYES~ Small
NOSE~ Blunt
HABITS~ 
USUALLY NESTS IN BASEMENTS & LOWER PORTIONS OF BUILDINGS. BURROWS IN SOIL EXTENSIVELY, ACTIVE PRIMARILY AT NIGHT, FAIR CLIMBER & GOOD SWIMMERS.
roof rat~ 
also known as black, fruit, ship)
TAIL~ Longer than head & body
BODY~ Slender
EARS~ Large
EYES~ Large
NOSE~ Pointed
HABITS~
usually enters & nests in upper portions of buildings. may nest outside in trees, ivy, etc...burrows very little. excellent climber & active at night.
House mouse~
FEET~ Small
HEAD~ Small
HABITS~
may nest in any portion of a building near food. has an average range of 50 ft. from their nest. active mostly at night. nibbles on small amounts of food frequently, rather than having large meals.